To celebrate the arrival of our two brand new shades we are having a little giveaway!!
Here are some shots of the two shades:
  Black in 4 and 8 ply
 Yellow in 4 and 8 ply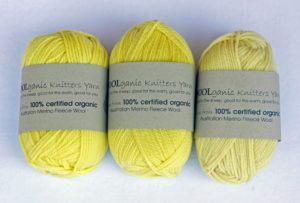 With Samsara (right) for comparison
Up for grabs will be two six packs in the winner's choice of either 4 or 8 ply, one in our brand new yellow and the other in our brand new limited edition black. The black is a perfect dark shade of black dyed using metal free low impact dyes as are the remainder of our yarns, and the new yellow is a more brighter yellow than it's predecessor Samsara without being over the top bright!
Now seeing as I suck at coming up with fabulous names and my two girls are just dying to judge a competition on my behalf (LOL) we thought we would run a competition to come up with a name for both the yellow and the black shades. I have christened them Sunshine and Midnight just in the meantime.
I will run the competition here on the blog and to be in the running to win all you need to do is comment on the blog with your choice of name for each of the shades. Yes you can give a name for both and be in the running to win both! In the case of duplicate names, the first person to comment with the winning name will be judged to be the winner.
The competition will close at 5pm on Saturday 24th October AEDST. I will announce the winner on Sunday 25th October both on the blog and on my Facebook page, so make sure you keep an eye out there.
Please note that the judges decision is final! You try arguing with my girls 😉
Good luck everyone 🙂